Protecting Assets,
Eliminating Debt
Sophisticated Bankruptcy Solutions from Experienced Bankruptcy Counsel
Over $
0
Assets Protected from Creditors
Over
0
Homes Saved from Foreclosure
Over $
0
Personal Debts Discharged
Bankruptcy Lawyer in Scottsdale, AZ
Top-Rated, Trusted Bankruptcy Attorney in Arizona
Life can deal you a bad hand through medical emergencies, job loss, a rough economy, or an unfortunate combination of these. Such circumstances can often result in unmanageable debt, which millions of Americans have experienced.
As experienced bankruptcy attorneys in Scottsdale, AZ, Barski Law Firm PLC can help you.
We specialize in debt relief solutions for individuals struggling to sort out their financial situations.
Our extensive experience in solving bankruptcy cases has helped people protect their retirement from fizzling out in credit card debt, save their houses from foreclosure, discharge hundreds of thousands of dollars in medical debt, and numerous others. Any Scottsdale bankruptcy lawyer worth their salt won't settle for offering the most obvious way out of debt, but instead navigates clients through all the minute processes of bankruptcy – that's us.
With decades of experience in handling a variety of bankruptcy situations, Barski Law Firm PLC has emerged as one of the most trusted legal counsels in Arizona. We provide clients with straightforward and comprehensive options for eliminating debt under all chapters of the bankruptcy code, especially Chapter 7 and Chapter 13 bankruptcy.
Don't settle for less experienced firms.
We'll provide thorough alternatives and iron-clad representation that will not only relieve you of debt but help you recover from financial hardship as well. If an experienced and accomplished Scottsdale bankruptcy attorney is what you need, Barski Law Firm PLC can offer options and solutions that focus on protecting your assets.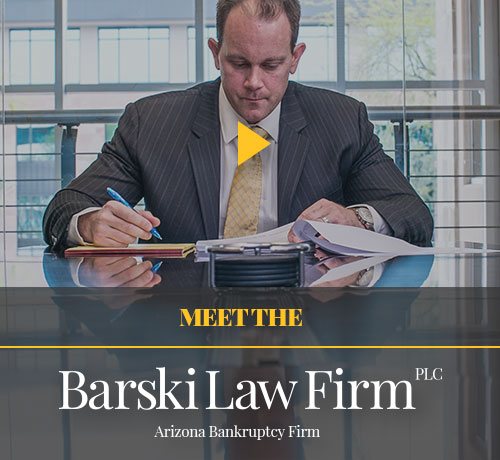 HOW WE HELP YOU GET A FRESH START
We are well-aware that each debt situation is unique to the client, which is why we excel in providing a variety of alternatives for handling unsecured debt. As a top-rated bankruptcy lawyer in Scottsdale, AZ, Barski Law Firm PLC offers the following services to mitigate any debt-related circumstance.
Debt Relief – Depending on a variety of factors like income and available assets, you may qualify for debt relief as a suitable solution for paying off a credit card or medical debt instead of filing for bankruptcy. Debt relief offers significant benefits like the ability to negotiate for reduced payments, which will require knowledgeable advice from experienced professionals like us.
Chapter 7 Bankruptcy – If you're dealing with substantial medical or credit card debts, or have experienced a recent income reduction, you may file for Chapter 7 bankruptcy to repay creditors while protecting your assets. It's crucial that you do this right, which requires extensive knowledge of Arizona bankruptcy exemptions from an experienced Scottsdale bankruptcy lawyer.
Chapter 11 Bankruptcy – If you're an individual or a business that needs to restructure debt payments to creditors while maintaining the opportunity to regain profitability, we recommend filing for Chapter 11 bankruptcy. We'll guide you step-by-step through this process, which can help you stop foreclosure sales and wage garnishments, remove judgment liens, and reinstate repossessed vehicles, among others.
Chapter 13 Bankruptcy – Filing under this chapter of bankruptcy can eliminate or reduce debts from car loans, credit cards, medical bills, and taxes, all without needing to sell off property or assets. Individuals with a certain amount of debt are solely qualified for this type of bankruptcy relief, only an experienced bankruptcy lawyer in Scottsdale can help you determine how to best proceed in such situations.
To learn more about the legal and real world options and solutions to your financial problems, call us today
WE OFFER FREE CONSULTATIONS
Paying off a significant amount of debt while protecting assets in Scottsdale, AZ without an experienced bankruptcy attorney is an unnecessary hardship you should not have to suffer. In the interest of saving money, you'll more likely end up spending more than necessary.
Barski Law provides consultations for free, giving you a good start toward debt relief.
We always strive to provide clients with much-needed peace of mind amid difficult financial situations through honest and professional counsel. We offer reasonable payment plans that we can tailor to fit your means, so that you can get started on your financial recovery as soon as possible.
Should you need an experienced and dependable bankruptcy lawyer in Scottsdale, don't hesitate to reach out to Barski Law Firm PLC.
Call us today or email for a free consultation.
Our Commitment To You

Comprehensive debt relief solutions that aim to protect your assets from creditors
Prompt response to all your calls and emails because we value your every concern
Updates on all developments concerning your case to show our commitment to your financial recovery

Professional, empathetic, and respectful service all throughout
Arron W.
Janetta A.
Asset
Emerson A.
Stella M.
I interviewed a number of attorneys and Chris was clearly knowledgeable. But the reason I trusted Chris was that he was not selling me anything. He gave me honest advice as if I was family. He ended up saving me a lot of money. In twenty years of dealing with attorneys, he is the only one I trust without qualification.
Chris took over for my incompetent bankruptcy attorney at a time when I was on the verge of losing both my house and my discharge. Through a lot of just plain hard work he resolved my situation entirely which for a time I never thought was possible. He showed how much he cares for his clients.
I came to Chris with only a few assets and a lot of debt.  But my assets meant a lot to me.  Chris understood that and gave me alternatives to protect my assets from creditors.  He was patient and answered all my questions and walked me through the process.  I cannot thank him enough.
I never thought I would be talking to a bankruptcy attorney. I am so grateful a friend referred you. I will never forget all your hard work and appreciate your honesty through all of this.
Lynn and I want to thank you for all the work you did. We came to you afraid and did not know what to do or where to look. We gave you our trust and you did not let us down. You gave us our lives and peace of mind back. Thank you and all your staff for your kindness. I trust you like family and will refer everyone to you.