Protecting Assets,
Eliminating Debt
Sophisticated Bankruptcy Solutions from Experienced Bankruptcy Counsel
Bankruptcy Lawyer in Scottsdale, AZ
Top-Rated, Trusted Bankruptcy Attorney in Arizona
Dealing with debt is stressful and overwhelming.  And finding honest and reliable information to find a solution can be difficult.  At Barski Law Firm, we sympathize with unforeseen circumstances that lead to unmanageable debt.  We know the stress involved.  We know the worry of losing a house, a vehicle or even a child's savings account.  That is why our focus is narrow – we specialize in protecting assets and eliminating debt in bankruptcy.  That is all we do.
Financial hardship can arise due to medical bills, job loss, a bad economy, bad business deals, a personal injury, credit card interest, or a combination of all of these.  Even unforeseen auto accidents can exhaust your policy limits and leave you with unexpected debt.  The mounting stresses that come with debt including wage garnishment, bank garnishments, levies, vehicle repossessions and foreclosures along with the unrelenting creditor harassment.
Filing for bankruptcy can immediately stop foreclosures, stop wage garnishments, avoid vehicle repossessions, and stop creditor harassment.  Our law offices will provide the legal advice you need to plan and prepare to eliminate your debt in bankruptcy court and get a fresh start.  Most debt can be eliminated in bankruptcy, with some common exceptions such as student loans and recent tax debts.
We have been practicing law for decades in Scottsdale, AZ and we represent clients throughout Maricopa County.  We are trusted because we provide clients with honest, straightforward and comprehensive alternatives for debt relief.  Don't settle for less experienced law firms when it comes to your financial future.  Contact a Scottsdale, Arizona bankruptcy attorney and eliminate your credit card and medical bills today.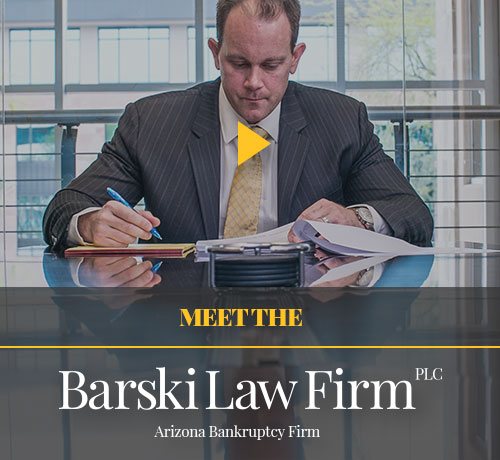 HOW WE HELP YOU GET A FRESH START
We represent individuals and businesses with debt relief options under the bankruptcy code.  We will answer all your bankruptcy faqs, explain the bankruptcy laws, outline the bankruptcy process, maximize your bankruptcy exemptions, protect your retirement and social security from creditors, advise you on the means test to qualify for Chapter 7, engage in debt negotiation with secured creditors and be with you every step of the way.  Bankruptcy protection can protect your real estate and be the only realistic foreclosure defense strategy available.
For most clients, Chapter 7 bankruptcy provides the quickest way to eliminate medical bills and credit card debts without repaying creditors.  Debtors get a Chapter 7 discharge approximately 90 days after filing bankruptcy and the case is closed shortly thereafter.  It is essential that you meet with an Arizona bankruptcy lawyer early to maximize your bankruptcy exemptions and protect your assets.  An experienced bankruptcy lawyer can save clients considerable money through pre-bankruptcy planning.
Chapter 13 bankruptcy is best for higher wage earners, individuals with non-exempt assets, or to pay priority tax debts over without penalty.  Chapter 13 bankruptcy is often the only way to keep your assets and stopping foreclosure while eliminating your debts.  If you choose a Chapter 13 payment plan, we have experience in minimizing the net disposable income you will have to pay to creditors over the term of the Chapter 13 plan.  Chapter 13 debtors are only required to pay on a monthly basis the amount remaining after deducting their reasonable living expenses in a projected budget.  We get clients the lowest payments plan possible and will negotiate with secured creditors to reduce payments.
We do not limit ourselves to certain chapters of the bankruptcy code.  For more complicated situations such as business bankruptcy or for higher income earners who want to restructure secured debts, we can handle your Chapter 11 bankruptcy.  We have even successfully handled Chapter 12 plans for farmers.  You will be counseled on all chapters under the bankruptcy code and not limited to those chapters or options that the less experienced find easiest for them.
When you file bankruptcy with a bankruptcy lawyer, all creditor calls will stop and there will be no further debt collection activity.  We will be with you every step of the way.  From counseling you on getting new loans in bankruptcy to defending adversary proceedings objecting to discharge, we have helped clients in hundreds of cases obtain the fresh start they deserve.
To learn more about the legal and real world options and solutions to your financial problems, call us today
WE OFFER FREE CONSULTATIONS
Many people avoid lawyers because they are worried about the affordability of the fees.  But trying to protect your assets and eliminate your debt on your own will likely cost you more money in the end.  Quality bankruptcy representation will pay for itself.  We offer free consultations to discuss bankruptcy and debt relief options.
Our bankruptcy fees are affordable and we offer affordable payment plans.  Debt relief should not be cost prohibitive and payment plans permit clients to start on their financial recovery as soon as possible.  The outcome and success of your situation often depends on the representation and advice you get in advance.
If you want to consider bankruptcy, we provide a comprehensive bankruptcy overview and also discuss alternatives to bankruptcy such as debt settlement.  We provide a fair but realistic assessment regarding one's financial alternatives.  In most cases, debtors struggle for far too long depleting all their assets to keep current with high interest loan payments.  We will review your financial situation thoroughly and recommend realistic solutions to maximize your bankruptcy exemptions, protect your assets and eliminate your debt to give you the financial freedom you deserve.
Or main office location is in Scottsdale, AZ but we are an Arizona bankruptcy firm that represents clients throughout Maricopa County.  If you are looking for a bankruptcy attorney near you, we can do your entire bankruptcy by phone or over e-mail if you do not have time to meet in person.  We work with our clients to accommodate their busy schedules.
Filing for bankruptcy without an experienced bankruptcy attorney is an unnecessary hardship you should not have to suffer.  Don't take shortcuts with your financial future.  Call us today or e-mail for a free consultation and learn how we can help you.
Our Commitment To You

Comprehensive debt relief solutions that aim to protect your assets from creditors

Prompt response to all your calls and emails because we value your every concern

Updates on all developments concerning your case to show our commitment to your financial recovery

Professional, empathetic, and respectful service all throughout
Stella M.
Janetta A.
Arron W.
Asset
Emerson A.
Lynn and I want to thank you for all the work you did. We came to you afraid and did not know what to do or where to look. We gave you our trust and you did not let us down. You gave us our lives and peace of mind back. Thank you and all your staff for your kindness. I trust you like family and will refer everyone to you.
Chris took over for my incompetent bankruptcy attorney at a time when I was on the verge of losing both my house and my discharge. Through a lot of just plain hard work he resolved my situation entirely which for a time I never thought was possible. He showed how much he cares for his clients.
I interviewed a number of attorneys and Chris was clearly knowledgeable. But the reason I trusted Chris was that he was not selling me anything. He gave me honest advice as if I was family. He ended up saving me a lot of money. In twenty years of dealing with attorneys, he is the only one I trust without qualification.
I came to Chris with only a few assets and a lot of debt.  But my assets meant a lot to me.  Chris understood that and gave me alternatives to protect my assets from creditors.  He was patient and answered all my questions and walked me through the process.  I cannot thank him enough.
I never thought I would be talking to a bankruptcy attorney. I am so grateful a friend referred you. I will never forget all your hard work and appreciate your honesty through all of this.