Protecting Assets,
Eliminating Debt
Sophisticated Bankruptcy Solutions from Experienced Bankruptcy Counsel
Over $
0
Assets Protected from Creditors
Over
0
Homes Saved from Foreclosure
Over $
0
Personal Debts Discharged
Arizona Bankruptcy Attorney
Top-Rated, Trusted Arizona Bankruptcy Counsel
Dealing with debt can be overwhelming. And finding honest and reliable information to find a solution can be difficult. We sympathize with the unforeseen circumstances that lead to unmanageable debt. We know the stress involved. We know the worry of losing a house, a vehicle or even a child's savings account. That's why our focus is narrow – we specialize in protecting assets and eliminating debt. That is all we do.
We are trusted because we have the knowledge and experience to provide clients with honest, straightforward and comprehensive alternatives for debt relief. We do not limit ourselves to certain chapters of the bankruptcy code. You will be counseled on all chapters under the bankruptcy code and all bankruptcy alternatives and not limited to those chapters or options that the less experienced find easiest for them. Discover what an experienced, trusted bankruptcy and debt relief attorney can do for you.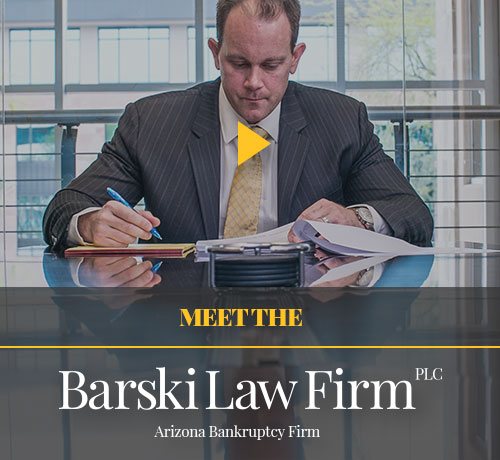 To learn more about the legal and real world options and solutions to your financial problems, call us today
Free Consultation, Affordable Services
Many people avoid attorneys because they are worried about the affordability of the fees. But trying to protect your assets and eliminate your debt on your own will likely cost you more money in the end. Our services most often pay for themselves. We offer free consultations and will review your financial situation thoroughly and recommend realistic solutions to protect your assets and eliminate your debt.
Find out about the peace of mind that comes with having experienced professionals on your side. We will also answer your questions over the phone. We offer affordable payment plan options and believe that debt relief should not be cost prohibitive. The outcome and success of your situation often depends on the representation and advice you get in advance. Call us today for a free consultation.
Our Commitment To You

You will get an honest assessment of your options

We will return all your calls and e-mails promptly

You will be informed of all developments in your case

You will be treated with compassion and respect
Asset
Emerson A.
Janetta A.
Arron W.
Stella M.
I came to Chris with only a few assets and a lot of debt.  But my assets meant a lot to me.  Chris understood that and gave me alternatives to protect my assets from creditors.  He was patient and answered all my questions and walked me through the process.  I cannot thank him enough.
I never thought I would be talking to a bankruptcy attorney. I am so grateful a friend referred you. I will never forget all your hard work and appreciate your honesty through all of this.
Chris took over for my incompetent bankruptcy attorney at a time when I was on the verge of losing both my house and my discharge. Through a lot of just plain hard work he resolved my situation entirely which for a time I never thought was possible. He showed how much he cares for his clients.
I interviewed a number of attorneys and Chris was clearly knowledgeable. But the reason I trusted Chris was that he was not selling me anything. He gave me honest advice as if I was family. He ended up saving me a lot of money. In twenty years of dealing with attorneys, he is the only one I trust without qualification.
Lynn and I want to thank you for all the work you did. We came to you afraid and did not know what to do or where to look. We gave you our trust and you did not let us down. You gave us our lives and peace of mind back. Thank you and all your staff for your kindness. I trust you like family and will refer everyone to you.